Sector Update / Banks / Click here for full PDF version
Author(s): Jovent Muliadi ; Anthony

In recent weeks there have been concerns on the SOE banks' exposure on SOE contractors namely
While
We expect the base case impact shall be only 1.5-3% EPS drop for SOE banks. Worst case impact will be 5-13% EPS drop. BRI is clear winner.

Risk in contractors exposure especially on
In recent weeks there have been concerns on SOE banks' exposure on SOE contractors especially
Base case of restructuring is relatively muted for all banks' EPS
We believe that the restructuring will happen and unlikely banks need to set aside full provision for both
Worst case impact is taking into account additional provision and conversion of non-cash loan
We also run another assessment to estimate the additional provision of which we run two scenarios: 1) for the first scenario, we expect
BRI is the clear winner here;
Given the peaking interest rate and relatively minimal exposure (also ample provision) on these contractors, BRI is the clear winner here. That being said, while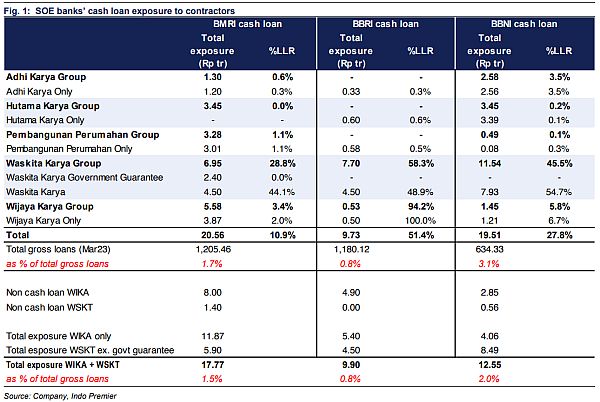 Sumber : IPS